Whether you're a legacy not-for-profit ready to launch into digital or you're a start-up charity looking to build your brand, at some point you'll consider hiring a nonprofit digital marketing agency to expedite your efforts.
Questions to ask when hiring a nonprofit digital marketing agency
Because the decision-making process can seem overwhelming, we've compiled this simple list of questions to ask when hiring a nonprofit digital marketing agency.
What type of clients do you work with?
Most agencies offer a wide range of digital marketing services, so it's difficult to tell how deep their knowledge of a particular area is until you start asking questions. By knowing the type of clients they typically work with, you'll get a sense for their strengths and specializations. Look for an agency that understands the nuances of your industry and has a strong idea of how to target your ideal audience and reach your organizational goals.
Who are some of your clients?
When interviewing an agency, it's helpful to learn who some of their clients are so you can figure out if you'll be a good fit there. It's not a prerequisite for an agency to have nonprofit experience, but you don't want to be a guinea pig either. When you ask this question, listen for examples of a proven track record and potential conflicts of interest.
What are your main services?
A well-rounded digital marketing agency will be versatile, but if you have specific outcomes you're looking for then you want to make sure the agency you hire is equipped to help you grow in that area. Learn what their main services are and make sure they fit with where you want to develop your marketing strategy.
What is your work style?
From this question, you'll learn whether or not your organization's work style and personality is a good fit for the agency's style. Ask what their approach is to projects, how they communicate and how they deal with feedback. You want your working styles to be aligned to avoid future friction or unmet expectations.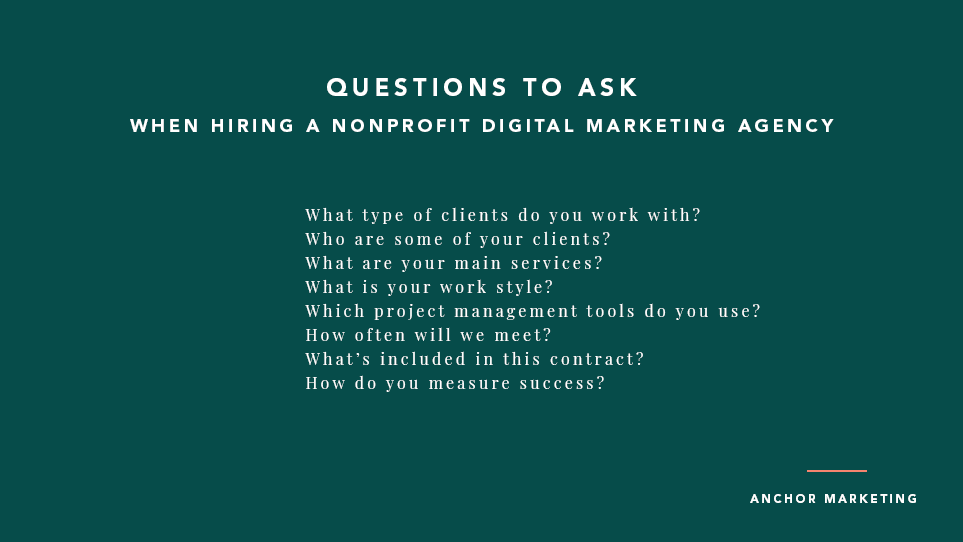 Which project management tools do you use?
Your organization likely has a favourite project management tool, and your agency may have a different one. This can work, but you want your project management to be streamlined, so this is good information to know upfront. At this point you will get a feel for what their workflows look like, how the approval process works and how they prefer sending files.
How often will we meet?
There's no right or wrong answers here, only what works for you. Do you want an agency who will essentially become your marketing department so you don't have to think about it? Then you'll be more interested in monthly or quarterly update-style meetings. But if you're looking for an agency to consult or work through projects with your team, then you'll want far more frequent meetings. Make sure this is clear to everyone before you start working together.
What's included in this contract?
Just as there are different types of agencies, there are different types of contracts. Make sure you understand what's included, and what's not included, in your contract before you sign. Is this for a one-off digital marketing campaign? Is it for a monthly retainer? Do you have to pay upfront? What is the turnaround time? What services are available? How many revisions can there be? How many team members do you have access to? When you're clear on the contract scope then there won't be any surprises when you get your first invoice.
How do you measure success?
The beautiful thing about digital marketing is there is a lot of data available to measure. However, not all metrics have meaning. Talk about what success means to you so the agency understands how to formulate a campaign that targets the metrics you care about moving forward. Marketing is a long road and you'll spend a lot of time in the "messy middle," before you see progress. By measuring the right numbers, you'll find those little sparks of encouragement along the way, giving you peace of mind that you're heading in the right direction.
These are just a few of the questions you can ask when hiring a nonprofit digital agency. This will help you find the right fit for your needs, and will give your agency the information they need to craft campaigns that make sense for your organization.

---

Anchor Marketing is an award-winning boutique marketing agency specializing in serving nonprofits across North America. We offer customized client care, digital strategy, branding, design, advertising and much more! If you're looking to hire a digital marketing agency for your not-for-profit please get in touch. We look forward to answering your questions.