You know you need to run a digital fundraising campaign, but you're not sure where to start. Or, maybe you know what you need to do…but you're overwhelmed with the million little details there are to take care of.
We get it. You're already busy running the day-to-day of your non-profit organization, not to mention the constant pivoting and putting out fires. And if you don't have an in-house marketing team or agency, then running a successful and authentic digital fundraising campaign might seem like just too much to handle in this upcoming fundraising season.
As much as we understand and empathize with your hesitation, you won't regret adding a digital element to your year-end fundraising strategy. It can be simple at first and become more complex as you go.
4 digital fundraising campaign elements to consider
Here are four elements to consider when thinking about your next digital fundraising campaign. These will help you focus on the most important details so you can leave everything else to the side.
Simple to-the-point messaging
Before you set to figuring out the tactics of your campaign, take a moment to consider your goals. What is the one main thing you want people to do after they encounter your message? Whether they read it in an email, scroll past it on social media, or see it in an ad, the message should be clear and consistent across all media marketing assets. Consistency is key in any campaign, and breaking it down into the simplest form of that message will be the most effective when considering a digital fundraising campaign.
Donate page
If you're an established non-profit, then you are likely very good at accepting donations through the mail and over the phone. But for some reason, taking donations online is still tricky and we have a tendency to overcomplicate things.
If your donate page is connected to an online store, then there may be a multi-page checkout in place. We strongly suggest developing an additional "donate now" landing page, which is simple and optimized for mobile. This should be one page and only collect the information you absolutely need in order to process the donation. You will be amazed at how many more people contribute to your digital fundraising campaign through your donate page once you take away the speedbumps.
Fundraising emails
Yes, you can and should send fundraising emails and we have the data to back this up. Here are a few statistics from the Global Trends in Giving Report: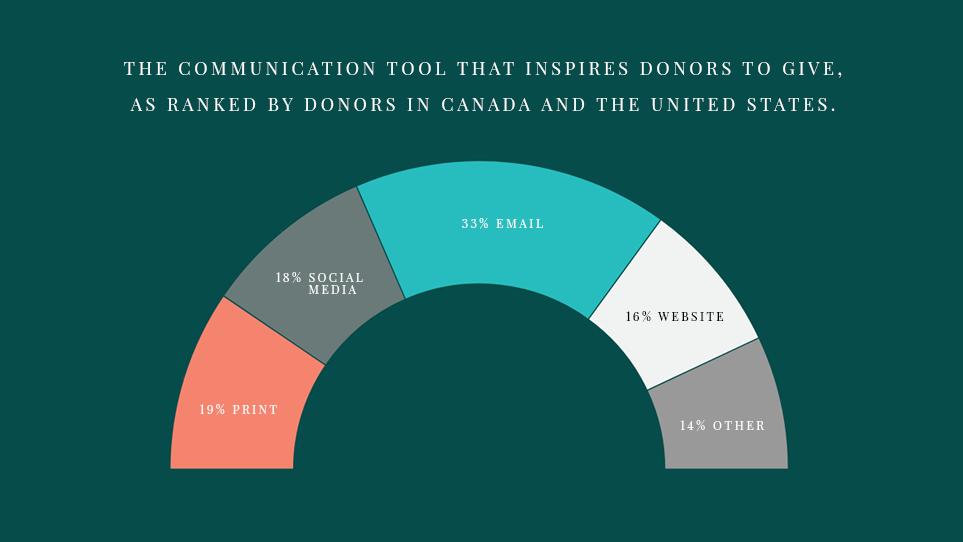 In Canada and the United states, 33% of donors say email is the communications tool that most inspires them to give. Compare this to 19% who said print, 18% who said social media and 16% who said website
When asked which communication method would most likely inspire repeat donations, 48% of donors answered "regular email communication." The next most popular response was 18% for social media
Of donors who are inspired to give by email, 45% would like quarterly updates, 29% responded monthly and 10% would like weekly emails
While regular email communication is important for inspiring donations and maintaining relationships, during a digital fundraising campaign there will likely be more emails than usual. You may be worried that you'll be annoying your constituents by dropping into their inbox multiple times, but since campaigns are generally time-sensitive, you only have so many opportunities to get your important message in front of donors.
By using more advanced tactics like email segmentations, you ensure your messages are reaching the right people who are the most interested in hearing from you. By developing a strong email marketing campaign, you're taking care to include inspiring, educational or entertaining content that will give your email campaign its best chance of success.
Virtual fundraising events
Most non-profits are used to doing things in person, and face-to-face interaction certainly builds strong relationships quickly, but COVID-19 has shown us the importance and viability of holding virtual events and fundraisers.
There are many software tools that make hosting online gatherings easy such as Zoom, GoToWebinar or Eventbrite. With a few clicks through the helpful set-up wizards, you can create an online ticketing and event landing page and even send out automated emails to aid your communication.
When planning your event keep in mind simple is often better, and people will need to learn about the event ahead of time as well as have several reminders to register and attend. Planning and pulling off a virtual event may seem intimidating at first but once you try it, you'll be convinced there's a place for virtual fundraising in your organization's future.
Final thoughts
There is a lot to consider when putting together a digital fundraising campaign, but it's not as complicated as you might initially think. Partnering with a digital marketing agency can boost your fundraising efforts even further as they have the expertise to put together an effective strategy in a short amount of time. If you're thinking about adding digital marketing to your year-end fundraising campaign and want an experienced non-profit partner at the helm, please get in touch! We want to see you thrive in the busy digital space by connecting with people who truly care about your message and your mission.