Lots of organizations are struggling with an aging donor base. HOPC discovered there are plenty of new donors who want to support a cause they believe in—all you need is a strategic cultivation funnel!
Hour of Power Canada was experiencing dwindling donations and minimal development with an aging donor base. In 2018, AMI began working with HOPC and brought the downward trend to a halt in 2019. In 2020, HOPC saw an increase of 30% in overall giving—even with the global pandemic!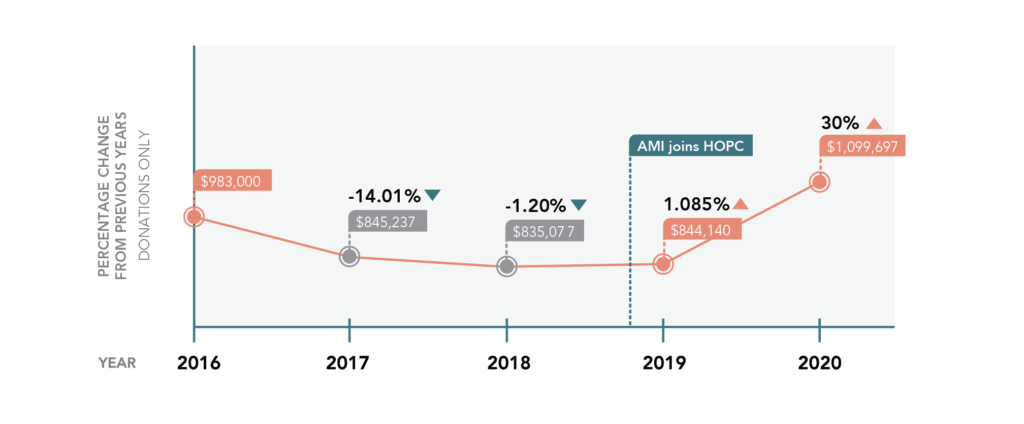 Client
Hour of Power Canada
Services
— Strategy
— Fundraising Collateral
— Email Marketing
— Social Media
— Digital Advertising
— Lead Generation
The team
— Strategist
— Project Management
— Designer
— Copywriter
— Social Media Specialist
— Digital Ad Specialist
Integrated Marketing Approach
All hands on deck! The right marketing approach is one that considers the whole 'ship' and carefully coordinates all the factors for a successful journey. AMI ensured a unified marketing strategy and messaging across all of HOPC's touchpoints.
AMI crafted a communication strategy using monthly newsletters and a drip campaign to deepen donor relationships.
AMI runs two annual lead-generation campaigns. A/B testing showed the most effective time of year to engage new donor prospects—while spacing out partner appeals to avoid donor fatigue. New potential donors were acquired with curated online ads and free print/digital resource offerings.
With a social media strategy that included contests and monthly digital advertising, HOPC increased followers and expanded into younger demographics. Curated social posts were used to drive traffic to the website and broadcasts.
Physical mail followed up with email and social media tie-in posts repeated donor appeals across multiple communication channels.
We approach every project with a strategy-first mentality, connecting an organization's vision with tangible and measurable goals. Since beginning with AMI, Hour of Power Canada saw a remarkable turnaround in engagement.
Over 7000 new names were acquired for donor cultivation in 2.5 years.
315 active donors added from 2019.
Campaign had a 25-65% email open-rate (industry average of 18-23%).
Email click-through rate (CTR) of 4.6% (2.3% is average for non-profits).
4800% increase in web traffic over 2 years (compared to 2 years previous to AMI).
85% of website visitors are new.
Facebook: 400% increase; Instagram: 655 new followers.
Marketing is like a sailboat—the smoothest journey comes from familiarity with all the parts of the boat and how they operate. Learning how to maneuver the waters takes time.
Whether you need a little or a lot of support, our crew is here for you.