If you've ever participated in a walk for charity or similar event, then you know the thrill of supporting a worthy cause, participating in some sort of physical challenge and then receiving a commemorative T-shirt or medal.
Very likely, you'll post a photo on social media—proudly showing off your wares and feeling that welcome boost of dopamine that comes from doing something good for the world.
Thanking donors, volunteers and supporters is crucial to retaining donors, and gifts (even nominal ones), can do a lot to increase a supporter's loyalty. It also gives them a creative and personal way to showcase their support with their network.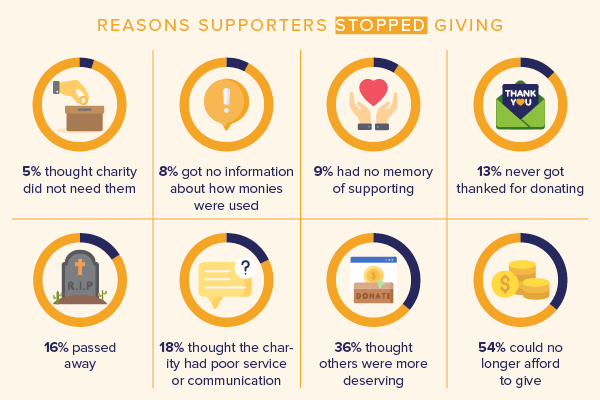 Source: https://bloomerang.co/blog/donor-appreciation/
The holiday season is a natural time to send gifts, and one way charities can stand out in a donor's mind is by sending a thoughtful and tasteful thank-you gift.
Seasonal gifts can be integrated into a donor care strategy, but they should come in addition to timely acknowledgment of financial support, sending a thank-you letter or call, and reporting on what their funds have accomplished.
Donor thank-you gift ideas guide for nonprofits
Here are some ideas and suggestions for donor appreciation gifts your organization can send to donors as a way to express your thanks this year. Let us know your top and favourite ideas!
1. Art
A unique piece of artwork is both a thoughtful gift and a regular reminder of your organization. This could be as simple as a meaningful scene printed on thick paper or a hand-lettered quote or mission statement.
2. Artisan product
If your organization works with artisan creators, then this is a wonderful way to give your donors a gift while also reinforcing your mission. Whether it's coffee, tea or another kind of handmade product, this can be an impactful and meaningful gift.
3. Book
If your organization has produced a book about the cause then include this when thanking your donors. If it can be personalized to a specific donor or experience, all the better! Consider history books, photo books or a book written by your founder.
4. Branded product
These classic gifts are most-often practical merchandise people use regularly, such as tote bags, T-shirts, mugs and umbrellas. Branded products provide a tangible way to show appreciation while also advertising your organization every time it's used.
5. Candle
Candles make a thoughtful gift, and can come in many shapes, sizes and scents. Your nonprofit may choose to create a signature scent or even have them made in your brand colours or with your logo.
6. Charcuterie board
Handmade charcuterie boards are a unique thank-you gift for donors. There are also many companies who will customize boards with your logo or a quote. Including cheeses and crackers or dried fruit will complete the gift.
7. Coupon or discount
If you offer activities, events or products, then consider sending coupons or discount codes to your donors as a sign of appreciation for their past support. This is a simple way to say thank you!
8. Flowers, plants or seeds
Sending a small arrangement or package of seeds can be a nice way to thank a donor and give them something to keep you top of mind. Depending on your region, different plants and flowers will be in season so what you send may change throughout the year.
9. Gift box
The idea is to put together a box of goodies, which are both a gift and a reminder of the work your organization does. For example, if your nonprofit rescues dogs, then filling a box with dog treats, toys and a book about your charity would make an excellent gift box.
10. Gift for another
Most people give out of altruism and so it may be more impactful to send a gift in their name that helps someone else. This could be purchasing a piece of sporting equipment for a team, sending a child to camp, giving a family a month of cooking classes, etc.
11. Journal and pen
Many people carry journals or notebooks with them to jot down ideas or thoughts. Sending a stylish journal and pen is a thoughtful gift for any type of donor. Consider adding a personalized handwritten thank-you note on the first page before mailing it.
12. Padfolio
Similar to a journal, a padfolio is a small case, which opens to a notepad and pen. This could be a nice gift for supporters who write lists or take notes during meetings or calls. There are many styles to choose from and you could easily add your logo to the case.
13. Postcard with handwritten note
Create branded postcards with an image from your charity or a brief impact statement on one side, and space to write a personalized note on the back. This can be a fun piece of mail to receive and an art piece people display on their fridge or mantle.
14. Special event
Consider hosting a thank-you donor event, created to show your appreciation and share about the impact their support has made. This could be an online event, or an in-person luncheon or dessert night. Just make sure you stay focused on thanking rather than asking!
15. Subscription box
If your organization offers subscriptions to services or products, consider creating one for donors. Think about what would best-represent your nonprofit. Ideas include local delicacies, flowers, books, lessons, memberships, practical tools, etc.
Gifts make people feel appreciated, and if it's the right gift, it can stand out in your donors mind and deepen their relationship with your nonprofit. However, gifts should be used with caution. Because most people give out of selflessness, a gift may feel unwarranted or inappropriate. Finding the right balance between thanking, reporting and offering tokens of appreciation is key.
We hope you enjoyed our top Donor Appreciation Gift Ideas!
If you're looking for more ideas to thank your donors or for any other marketing needs – feel free to reach out, we'd love to help.